The PCman's FREE WAP Tools and Resources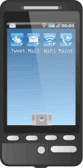 FREE WAP Tools and Resources online wml wap page creator, wbmp images, simulation and freeware downloads. Here is some help for developing WAP sites. Cell Phones and PDA use Wireless Application Protocol to view web pages they must have a small file size because the bandwidth is so limited. Our wbmp images are small in file size to help with download times. These tools, resources and our online wap page creator should help with your site building efforts.
FREE Webmaster tools | FREE Logo Creator | Arcade games
New features are always added so check back often.
Thank you for visiting the best site on the web!
This site is always updated
Copyright ©1999-2013 The PCman Website
Site Map | Links | Terms | Tell a Friend | Forum | Privacy | Mail List | The PCman's Store