Contact The PCman

Please feel free to leave any comments, suggestions, etc. using the form below you can also report any broken links. Due to the large amount of email spam we receive we have opted to remove our form from this page and use the email address below. We will reply to your inquiry shortly.
Check this list first, we have special forms for some subjects. If you don't want one of these topics then use the form below. Due to COPPA regulations, You must be 13 years of age or older to send our forms.
Immediate Help Resources:
Send Us a Message
Contact Us
Please use this address for correspondence.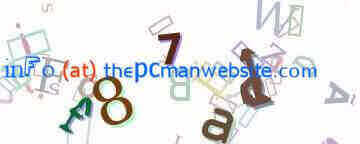 New features are always added so check back often.
Thank you for visiting the best site on the web!
This site is always updated
Copyright ©1999-2013 The PCman Website
Site Map | Links | Terms | Tell a Friend | Forum | Privacy | Mail List | The PCman's Store