Myspace Colored Scrollbars Codes For Your Profile
Myspace Colored Scrollbars Codes to change the look of your profile, we show you how to customize the colors of your colored scrollbars and add it to your myspace profile using the codes below. With our easy to understand tutorial you will know how to add colored scrollbars code to your myspace profile. We give you the free
colored scrollbars codes
and the myspace color codes to customize your scroll bars, then you can simply paste into your profile.
More Myspace Add-Ons | Play Games | FREE Stuff | FREE Fonts | FREE Wallpaper
The PCman's Myspace Colored Scrollbars Codes For Your Profile
When creating colored scrollbars for your profile you can choose any color for those colored scrollbars, we have popular myspace color codes (opens into a new window) that you can use along with any of these colored scrollbars codes.

How to use Colored Scrollbars Codes:
Where you see the placeholder COLOR enter a color code.
Then paste your completed code into your "About Me" section.


Myspace Colored Scrollbars Codes:
Plug-in these myspace color codes for your desired colors.
Paste it into your About Me section.
Don't remove or replace anything else.
If you make a mistake press the Reset button.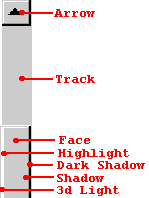 New features are always added so check back often.
Thank you for visiting the best site on the web!
This site is always updated
Copyright ©1999-2013 The PCman Website
Site Map | Links | Terms | Tell a Friend | Forum | Privacy | Mail List | The PCman's Store