Add FREE Greeting Cards to Your Web Site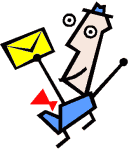 Add Free Greeting Cards to your web site now your visitors can send free greeting cards online. Use our link code generator to easily customize the unbranded pages with your colors and fonts. Enter your site information below and generate your link code that is custom created by our link code generator for you with your color scheme and font choices. Also the pages open into a new window with no address bar, menu bar or status bar they won't see the address of where they are going so they will feel they never left your site. Simply copy and paste the code into your webpage were you want the link to be located. All of the work, additions and updates are done by us.
The creator pages, notification emails and the cards the people receive contain links back to your site providing you with a source of increased traffic without doing the work or using up your website space and monthly bandwidth traffic allowance. Your color scheme is carried throughout the creator pages and even the error pages if the user forgets to enter their name or email address. We even included colored scroll bars. It's easy to add free greeting cards to your web site with our online code creator. Send one today.
View an Example | Make Money $$$ | FREE Games 4 Your Site | FREE Webmaster Tools
New fun, free features are always added so check back often.
Thank you for visiting the best site on the web!
This site is always updated
Copyright ©1999-2013 The PCman Website
Site Map | Links | Terms | Tell a Friend | Forum | Privacy | Mail List | The PCman's Store